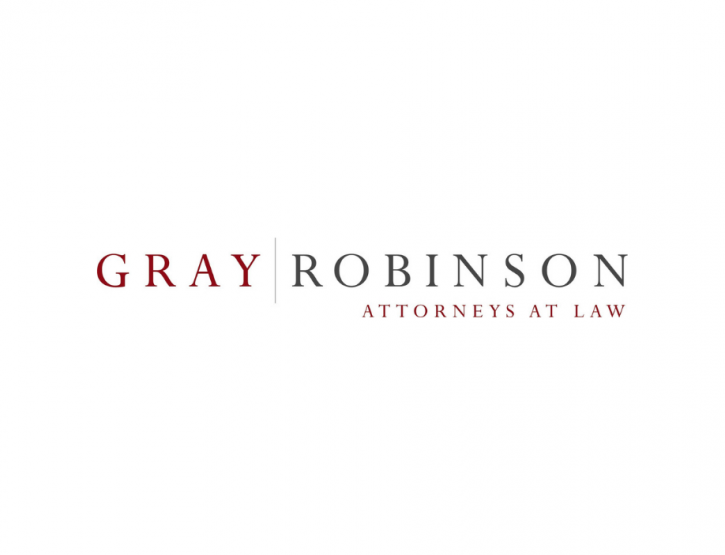 GrayRobinson-Melbourne
GrayRobinson is a full-service corporate law firm with nearly 300 attorneys throughout 12 offices across Florida. We provide legal services for Fortune 500 companies, emerging businesses, lending institutions, local and state governments, developers, entrepreneurs and individuals across Florida, the nation and the world.
At GrayRobinson, we offer not only breadth across a great many legal specialties, but depth and proficiency in each one as well. We have invented a better brand of law firm, counting creativity as a hallmark characteristic and insisting on ingenuity and innovation. At GrayRobinson, there is no such thing as "business as usual." We are one of Florida's fastest-growing law firms and are proud to be on the forefront of emerging legal issues.
Our strength is built upon the collective histories of our offices across the state. Our roots run deep in each community we serve. As we have expanded across Florida, we have added to the foundations laid by prestigious law firms in Boca Raton, Fort Lauderdale, Gainesville, Jacksonville, Key West, Lakeland, Melbourne, Miami, Naples, Orlando, Tallahassee and Tampa.
We have forged our own path, creating a firm that best serves our clients and our communities. As we have grown, we have remained committed to keeping small-firm qualities, including the ability to work expeditiously on behalf of our clients and respond quickly to their needs. In addition, we have promised to work with conviction and compassion and to embrace our community as a matter of mission as well as passion.
Practice Areas: Advertising & Promotions, Bankruptcy, Food & Beverage, Labor & Employment, Licensing (Liquor, Beer, Wine), Maritime Admiralty & Cruise Ships, Real Estate Development & Transactions
Visit our Offices:
Boca Raton, Fort Lauderdale, Fort Myers, Gainesville, Jacksonville, Key West, Lakeland, Melbourne, Miami, Naples, Orlando, Tallahassee, Tampa, Washington, D.C., West Palm Beach
Our Featured Attorneys:
Richard Blau, Elizabeth DeConti, Grace Yang, Valerie L. Haber
Our Featured Articles:
Alcohol Advertising in the Digital Age – July 2018
FDA Will Begin Enforcing Menu Labeling Requirements in Less Than Two Months: Covered Establishments Must be Prepared – March 2017
Uber vs. Uber – April 2016
Can an Anonymous Tip Result in a Legal DUI Traffic Stop? – November 2014
Promoting Alcohol Through Social Media – November 2013