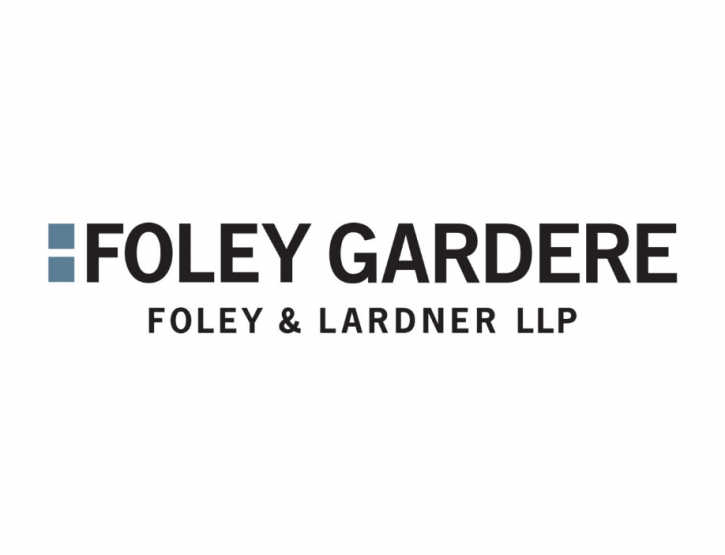 Foley and Lardner
Foley & Lardner LLP looks beyond the law to focus on the constantly evolving demands facing our clients and their industries. With over 1,100 lawyers in 24 offices across the United States, Mexico, Europe, and Asia, Foley approaches client service by first understanding our clients' priorities, objectives, and challenges. We work hard to understand our clients' issues and forge long-term relationships with them to help achieve successful outcomes and solve their legal issues through practical business advice and cutting-edge legal insight. Our clients view us as trusted business advisors because we understand that great legal service is only valuable if it is relevant, practical and beneficial to their businesses.
On April 1, 2018, Foley combined with Gardere, Wynne & Sewell LLP. The combined firm operates as "Foley Gardere" in Austin, Dallas, and Houston, and as "Foley Gardere Arena" in Mexico City through its subsidiary, Gardere, Arena y Asociados, S.C. All other offices operate as Foley & Lardner LLP.
Our Practice Areas:
Labor & Employment, Litigation, Real Estate Development & Transactions, Taxation, Hospitality, Food & Beverage.
Our Featured Attorneys:
Cliff Risman, Dewey Brackin
Our Featured Articles:
It's time to wake up and figure out how GDPR affects you! – September 2017
New Texas M&A Broker Exemption – May 2016
Joint Employment Concerns Grow for Franchisors – March 2016
More Things, More Cyberattacks – January 2016
Yikes! Ransomware Could Take Over Your Hard Drive – March 2015
It's Time to Investigate Cyber Insurance – April 2015
Don't Be Like Other Employers: Pay Your Interns – July 2014